Packed and ready and sweet talking to our cats Mr. and Mattie so they will not be too angry with us for leaving them for awhile. Hitting the old Rte. 66 highway bright and early in the morning.
This is where we will land after 10 hours of driving through Kingman, Flagstaff and the Continental Divide: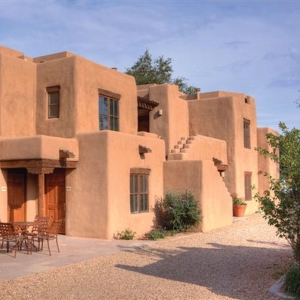 No pool at this site so to get our exercise we will be walking the 10 minutes to The Plaza where I hear there are plenty of restaurants, art galleries and museums. No tours for us this time, thank you very much. Just aimless wandering and exploring - my cup 'o tea. I was shocked to see photos of Santa Fe covered in snow but I do not think we will encounter the white stuff except maybe at the Divide. Taking my I-Pad so will be doing updates on the road. Now back to final packing and cooing to the kitties.